Leading men from London's West End and Broadway performing at your wedding, party or corporate event.
Our exceptional classically trained tenors pose as waiters or members of staff at your event before bursting into operatic aria to the surprise and delight of all your guests.
With training from London's Royal Academy of Music, and credits including principal roles on the West End and Broadway, we boast some of the finest young talent available guaranteed to blow your guests away and make your event a truly memorable one.
Book / Ask about this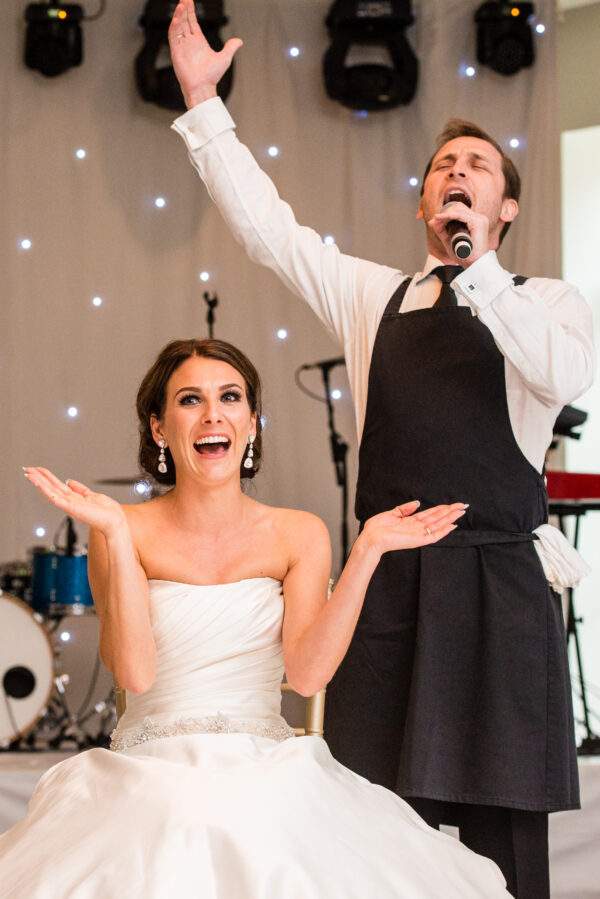 Unfamiliar with the Singing Waiter concept? Here is how it works…
Three performers masquerade as waiters during your wedding – perhaps serving champagne at the drinks reception straight after the ceremony, and maybe even floating around during the meal topping up wine and making sure everyone has everything they need (probably not actually serving the food, because they're not really waiters!). Then at the appropriate moment, usually in between the main course and the dessert, one of these 'planted performers' will break cover and burst into song. One by one, his workmates will then reveal their true identity and join together to deliver a performance of around 30 – 40 minutes.
Book / Ask about this
So what makes The Opera Boys special?
Well, over the years there have been many different forms of this kind of entertainment, but the original concept was to have classically trained opera singers performing as singing waiters – and that is exactly what The Opera Boys are.
The Opera Boys are a selection of some of the UK's finest classically trained young voices. They have been performing together for over 10 years now and perform concerts both nationally and internationally. Between them they have credits on London's West End and Broadway, and have worked alongside some very big names including Elton John, Tom Jones, Robbie Williams & Russell Watson.
Book / Ask about this
What will The Boys sing?
They perform a range of music from well-known opera and classical favourites to West End numbers from Les Miserables, Phantom & Jersey Boys, and there's even a few modern pop songs thrown in! Most importantly though, they are hugely experienced performers who know exactly how to engage an audience and they've been performing together for years so bounce off each other seamlessly to deliver first class entertainment.
Book / Ask about this