Operatic Singing Waiters in Ilfracombe
West End and Broadway leading men performing at your wedding, party or corporate event.
For an outstanding performance that is sure to impress your guests, look no further! Our talented and impressive group of singing waiters are not only exceptional vocal entertainers, but they are also outstanding performers. Our classically trained tenors will cleverly disguise themselves as members of your event staff or waitstaff, biding their time until it is the perfect moment to unleash their talents.
Our highly talented and professionally trained young tenors have graced the illustrious stages of both Broadway and the West End. Their remarkable vocal abilities have been honed at London's esteemed Royal Academy of Music, but their talents extend far beyond their captivating voices, as they are extraordinary entertainers too.
Book / Ask about this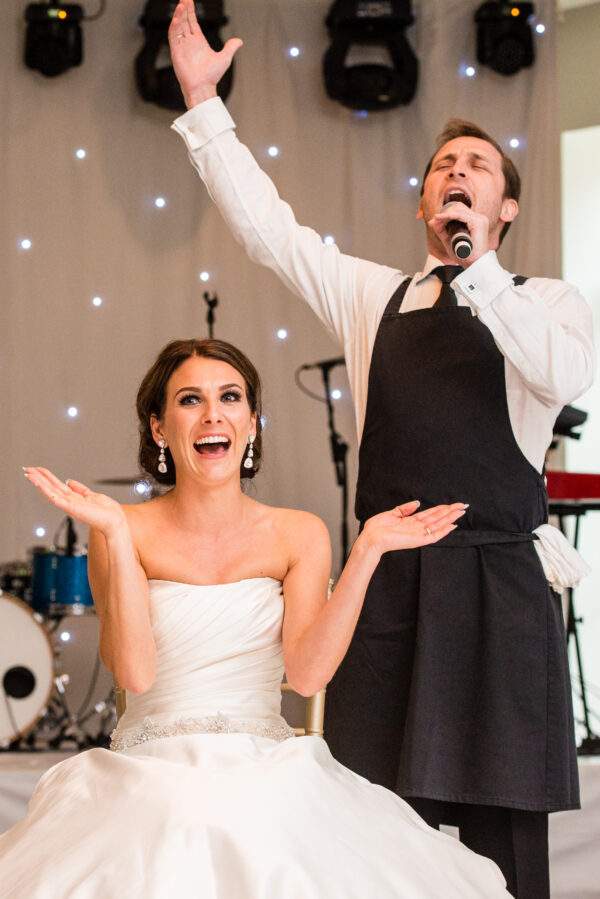 How does the Singing Waiter concept work?
Highly trained, our tenors will provide an unforgettable performance for any wedding or event! As the number one choice for Singing Waiters in Ilfracombe, our tenors will blend seamlessly into the event staff, even offering champagne during the drinks reception, adding an air of authenticity. However, they won't be serving the food and will instead be ready to start the performance at precisely the right moment. This is typically between the main course and dessert. You can expect the first waiter to begin and then the rest of the team will join in, one by one, creating an outstanding performance that will last approximately 30 to 40 minutes.
Book / Ask about this
Why are The Opera Boys the leading Singing waiters in Ilfracombe?
For over ten years, our outstanding team of tenors have been captivating audiences and creating unforgettable memories with our exceptional performances. Our track record speaks for itself, establishing us as the number one team of singing waiters in Ilfracombe. You can count on nothing short of a captivating, entertaining, and impeccably professional performance that will leave its mark on any audience.
The Opera Boys ensemble is a blend of some of the most talented classically trained voices in the UK. Together, we have performed in concert halls both at home and abroad, and individually, our members have held principal roles on the grand stages of Broadway and London's prestigious West End. We have performed alongside big name stars such as Russell Watson, Tom Jones, Robbie Williams, and Elton John, firmly establishing ourselves in the industry.
Book / Ask about this
What will The Opera Boys sing?
From contemporary pop hits to beloved classical masterpieces we will perform a wide variety of musical numbers.This will also include well-known opera selections, and iconic numbers from renowned West End productions like Les Misérables, The Phantom of the Opera, and Jersey Boys, so you can be sure that there is something for everyone to enjoy. With our unmatched expertise and exceptional performance skills, we are the number one choice for singing waiters in Ilfracombe.
Book / Ask about this
Sue McDougall – Wedding, Manor House Chippenham, 28 June 2021
You guys collectively were brilliant – much as I had expected from my first call with you.
The feedback from everyone afterwards was so positive. Not only was it a pleasure to listen to you all – choice of songs just right – plus interactions etc, but it was your audience's first time in about 18 months to hear/be part of a live performance so the lift and buzz that you gave us all was spot on.
You were a very special and important part of a very special day – thank you!
I would have no hesitation in recommending you.
Book / Ask about this
Julie Thornhill – Wedding, Farnham Castle, 22 April 2018
Well what can I say except thank you so much to all of you for your amazing singing! You really made our day so special! I would definitely recommend you in the future!
Book / Ask about this
Gillian Parkin – Horbury Group 25th Anniversary, Queens Hotel Leeds, 27 May 2018
You were absolutely fabulous and everyone was totally surprised! Not only was your singing pitch perfect, you were also extremely entertaining.
Thank you for a first class, top performance, you certainly got our party swinging.
Book / Ask about this