Singing Waiters in Yorkshire
Last Saturday night we had the pleasure of performing as Singing Waiters for a wonderful event at Rudding Park in Leeds, Yorkshire.
The event was 'The Snow Ball' held by The Yorkshire Charity and it was a great success. The Yorkshire Charity is a fabulous organization that does wonderful work raising money for various different charities in Yorkshire and we were delighted to be involved with this event.
Held at the beautiful Rudding Park, the event catered for around 300 guests who were all treated to a beautiful meal served by the catering team (which included us) and were dazzled by an iBid auction (very high tech!) a raffle presented by local radio personality Liz Green, an 8 piece band and a DJ.
Book / Ask about this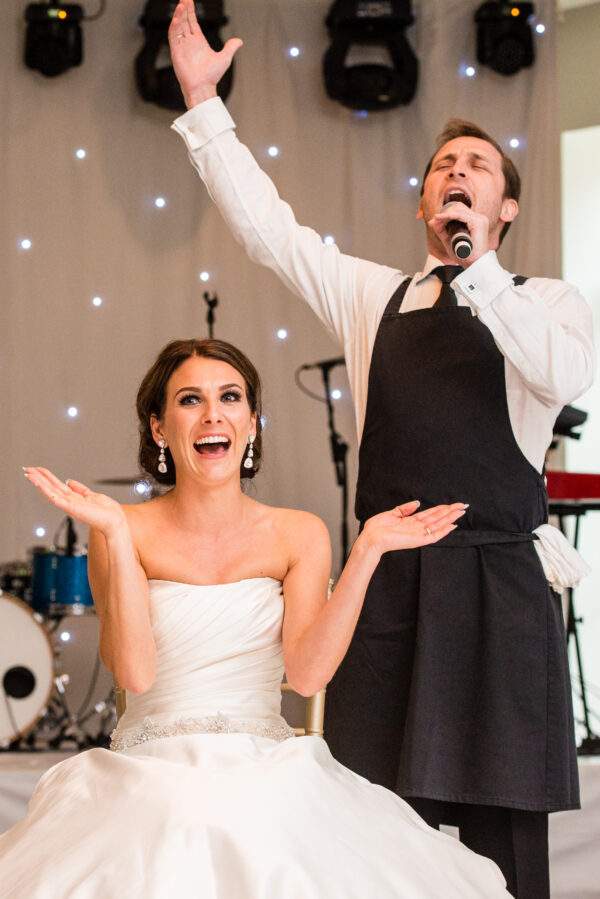 We burst into action to the surprise and delight of all the guests.
And, of course, there was us… After serving champagne in the lobby (and almost managing not to drop any) we assisted with the serving of the meal and drinks orders throughout the evening, making sure everybody thought of us as part of the team. Then at the end of the meal we burst into action to the surprise and delight of all the guests, revealing one, then another, and then another secret performer that had been masquerading as a waiter.
After a few well-known operatic arias and a cheeky serenade of the Lady Chairman, we sang a few party numbers that had everybody on the dance floor before finishing off with 'Nessun Dorma' in 3-part harmony.
Book / Ask about this
The event was a resounding success, which we were delighted to be a part of and the Chairman was kind enough to send us this the very next day:
Thank you very much for your fantastic show at our Snow Ball.
We were bowled over with the whole thing from start to all too soon finish.
As waiters you were brilliant I am sure all the ladies enjoyed their fizz all the more as it was so handsomely served.. And throughout the evening you had our guests completely taken in. It was fun to be part of the conspiracy!
The Opera part was brilliant .. Especially O Sole Mio .. I will be dreaming about that for some time to come!
When it came to audience participation you had everyone on their feet. Fantastic.
Well done all of you.
Jan Knight
The Yorkshire Charity.
Book / Ask about this