Operatic Singing Waiters in Dundee
Broadway and West End leading men performing at your wedding, party or corporate event.
Prepare to be mesmerised by a performance that will surprise and delight your guests! Our exceptional team of singing waiters will be hidden among staff or waiters throughout your event, poised to make the big reveal at just the right moment, to have the biggest impact. 
Our singing waiters are some of the most talented, young, professionally trained tenors in the country, and have performed on Broadway and West End Stages, and trained at London's Royal Academy of Music. But more than that, they are also fantastic entertainers too!
Book / Ask about this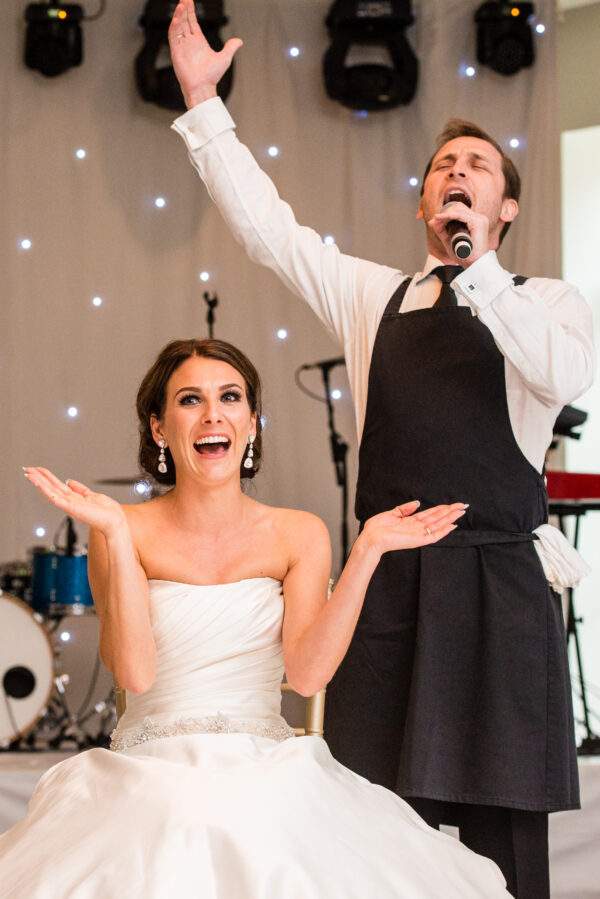 How does the Singing Waiter concept work?
As the leading group of Singing Waiters in Dundee, our tenors will deliver an unforgettable and extraordinary performance that will make your wedding or event memorable. While at your wedding, our tenors will appear to be waiters. They may even serve champagne during the drinks reception to really keep the surprise hidden. You can be sure that our team will instead be ready to burst into song at the perfect time, generally between the main and the dessert. The first waiter to reveal himself will do so first, with the rest of the team joining him one at a time while the performance lasts for 30 to 40 minutes. All of your guests will enjoy this interactive, excellent experience.
Book / Ask about this
Why are The Opera Boys Dundee's leading Singing waiters?
We have been captivating audiences with our performing abilities for the past ten years, and as a result, we are the top group of singing waiters in Dundee. Any audience will be delighted, entertained, and impressed by us; our talent truly speaks for itself.
The Opera Boys' ensemble, which includes some of the best classically trained young voices in the UK, has been performing together for more than ten years. We play concerts both domestically and abroad, and we have principal roles on both Broadway and the West End of London. We have also collaborated with some very well-known individuals, such as Russell Watson, Tom Jones, Robbie Williams, and Elton John.
Book / Ask about this
What will The Opera Boys sing?
Our team will perform a range of musical performances, from contemporary pop tunes to classical favourites, from well-known opera to major West End numbers from Les Miserables, Phantom, and Jersey Boys. We use our experience and performing skills to work collaboratively and provide the audience with top-notch entertainment as Dundee's top singing waiters.
Book / Ask about this
Sue McDougall – Wedding, Manor House Chippenham, 28 June 2021
You guys collectively were brilliant – much as I had expected from my first call with you.
The feedback from everyone afterwards was so positive. Not only was it a pleasure to listen to you all – choice of songs just right – plus interactions etc, but it was your audience's first time in about 18 months to hear/be part of a live performance so the lift and buzz that you gave us all was spot on.
You were a very special and important part of a very special day – thank you!
I would have no hesitation in recommending you.
Book / Ask about this
Julie Thornhill – Wedding, Farnham Castle, 22 April 2018
Well what can I say except thank you so much to all of you for your amazing singing! You really made our day so special! I would definitely recommend you in the future!
Book / Ask about this
Gillian Parkin – Horbury Group 25th Anniversary, Queens Hotel Leeds, 27 May 2018
You were absolutely fabulous and everyone was totally surprised! Not only was your singing pitch perfect, you were also extremely entertaining.
Thank you for a first class, top performance, you certainly got our party swinging.
Book / Ask about this