Classical Singing Waiters in Kent
Last week we performed at the beautiful Hever Castle in Kent. For those of you that don't know, Hever Castle is the childhood home of Anne Boleyn, the intriguing second wife of Henry VIII and mother of Elizabeth I.
The event was a Gala Dinner for Caffyns car dealership, who were celebrating 150 years in business (pretty impressive) and we had been booked to perform as operatic singing waiters.
A few months ago we performed on the maiden voyage of P&O's brand new cruise ship Britannia and as luck would have it, the chairman of Caffyns was a passenger on the voyage and had come to see our concert on board. He approached us after the concert and said that he would very much like to have us perform for their upcoming event and would we be able to put something together for them. The CEO of the company was very keen on the idea of surprise singing waiters and so was delighted to hear that we do offer that style of performance.
Book / Ask about this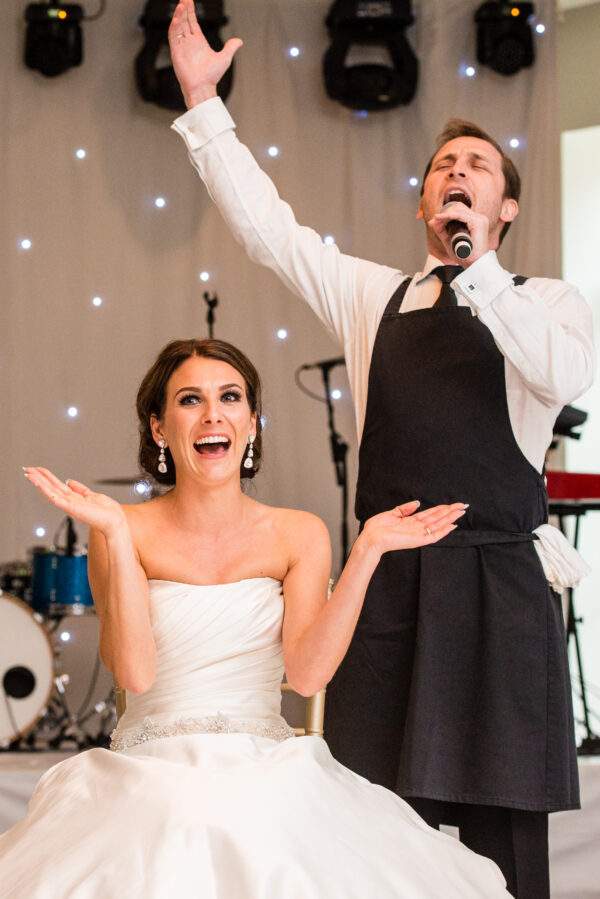 We began by serving canapés to the guests on the Loggia overlooking the lake…
The event was fantastic. We began by serving canapés to the guests on the Loggia overlooking the lake (yes, the venue is amazing) whilst a string quartet played. The guests were then brought in for dinner, served by the very efficient staff (with a little help from ourselves). At the end of the dinner there were a couple of speeches and then we were on!
After revealing our true identities one by one with renditions of 'La donna e mobile' and 'Funiculi, funicula', we then sang a few numbers together including a little serenade to a delighted/surprised guest, before finishing off with 'Nessun Dorma' to rapturous applause and appreciation.
The guests were then ushered outside to watch fireworks by the lake to on what was an absolutely beautiful evening!
Book / Ask about this
Sue McDougall – Wedding, Manor House Chippenham, 28 June 2021
You guys collectively were brilliant – much as I had expected from my first call with you.
The feedback from everyone afterwards was so positive. Not only was it a pleasure to listen to you all – choice of songs just right – plus interactions etc, but it was your audience's first time in about 18 months to hear/be part of a live performance so the lift and buzz that you gave us all was spot on.
You were a very special and important part of a very special day – thank you!
I would have no hesitation in recommending you.
Book / Ask about this
Julie Thornhill – Wedding, Farnham Castle, 22 April 2018
Well what can I say except thank you so much to all of you for your amazing singing! You really made our day so special! I would definitely recommend you in the future!
Book / Ask about this
Gillian Parkin – Horbury Group 25th Anniversary, Queens Hotel Leeds, 27 May 2018
You were absolutely fabulous and everyone was totally surprised! Not only was your singing pitch perfect, you were also extremely entertaining.
Thank you for a first class, top performance, you certainly got our party swinging.
Book / Ask about this